<![if !supportEmptyParas]> <![endif]>
<![if !supportEmptyParas]> <![endif]>
<![if !supportEmptyParas]> <![endif]>
<![if !supportEmptyParas]> <![endif]>
<![if !supportEmptyParas]> <![endif]>
<![if !supportEmptyParas]> <![endif]>
<![if !supportEmptyParas]> <![endif]>
<![if !supportEmptyParas]> <![endif]>
<![if !supportEmptyParas]> <![endif]>
<![if !supportEmptyParas]> <![endif]>
<![if !supportEmptyParas]> <![endif]>
"In the next war none of us can count on us having enough living to bury our dead."                           J. ROBERT OPPENHEIMER
<![if !supportEmptyParas]> <![endif]>
<![if !supportEmptyParas]> <![endif]>
7
ENGLAND, RUSSIA
AND THE UNITED STATES
SURRENDER TO HITLER
<![if !supportEmptyParas]> <![endif]>
       Bright and early the next morning Hitler was reviewing newsreels on Mengele's videotapes that had been brought back from the future. Hitler was shocked at his sickly, ashy, white gray complexion in 1945. He discovered his physician, Dr. Morel, had been giving him pain pills that contained small doses of arsenic which slowly destroyed his body after 1941. Hitler realized this after reading Mengele's 1971 copy of, "The Last Days of Hitler," written by Hugh Trevor-Roper and seeing the movie based on this work. Once Hitler put two and two together he ordered his beloved private physician, Dr. Morel, executed.
<![if !supportEmptyParas]> <![endif]>
Page 50
DOCTOR MOREL MURDERED 
<![if !supportEmptyParas]> <![endif]>
     Morel couldn't believe it when a week later he was awakened by SS officers in the middle of the night.
     "What's the matter—what are you doing?"
     "Orders from the Führer, you are to die by firing squad."
     "You don't know what you're doing! Aside from Martin Borman and Himmler I'm the Führer's best friend."
     "Just following orders."
     Morel was strapped to a post and seconds later shots rang out. Morel, who was to all but poison Hitler in the years to come, through medical quackery, breathed his last.
<![if !supportEmptyParas]> <![endif]>
SPECIAL STEPS TAKEN TO
CRACK THE ENEMY'S CODE
<![if !supportEmptyParas]> <![endif]>
     Hitler fired Admiral Canaris, his head of intelligence, who he learned would, in the future, fail to inform him that the United States Intelligence Agents broke his military top secret code. Once he'd done this, he established a bureau, which was to learn Navajo. Having captured 25 U.S. Navajo Indians, he intended for his intelligence to learn that language so well that he would be able to crack U.S. codes which included the segment of Navajo 'code talkers.' The code talkers he learned, from newsreels, had translated American codes into Navajo, sent them, and then used Navajo to decipher the codes on the receiving side.
Page 51
HITLER IN AWE OVER MOON SHOTS
<![if !supportEmptyParas]> <![endif]>
     All was now in his favor. He had nothing to lose and he spent many weeks and months reviewing articles and videotapes with Adolf Mengele, the illegitimate son of the captured Joseph Mengele, who was born in the late 1970's.
     Hitler said, "You may speak English, look and sound like an American, but you are a purebred German Aryan at heart. We will win!"
     When Hitler saw tapes of the United States moon shot and landing in 1969, he was shocked. "The moon," he exclaimed, "The Americans went to the moon and they used my scientist, Wernher Von Braun, to build their rocket. They stole my technology and went to the moon. What, I can't believe it. If Germany will be destroyed there will be a space race between the United States and that inferior race of Russians, both using scientists they pilfered from me! And those  charlatans took my small jet fighter aircraft and expanded it into freighter size airliners and used it for civilians to produce capital. Capitalistic democratic idiots."
<![if !supportEmptyParas]> <![endif]>
HITLER AND HOGAN CAN NOT AGREE
<![if !supportEmptyParas]> <![endif]>
     After viewing episodes of Hogan's Heroes from the 1960's, which Mengele had taped from Nick at Night, a cable television station specializing in old TV shows, Hitler screamed, "What's this? Are the Americans making fun of us after we lose the war—no more, no more!" He pulled the electrical cord out of the wall.
Page 52
HITLER AND SPIELBERG
<![if !supportEmptyParas]> <![endif]>
     Later Hitler viewed Mengele's videotaped movies: Raiders of the Lost Ark and Indiana Jones & The Last Crusade for the Holy Grail, produced by Steven Spielberg. He went into a frenzy exclaiming, "The Jews of the future are making movies about me. Fictitious movies with impersonations of me by actors that do not even look like me. Why would I sign the diary of this fool cowboy Indiana Jones or be racing him for the grail?  I'll find it, but without this Jones idiot American cowboy."  He then fainted.
<![if !supportEmptyParas]> <![endif]>
HITLER SABOTAGES THE AMERICAN ATOMIC BOMB PROGRAM
<![if !supportEmptyParas]> <![endif]>
       Back in the U.S., Roosevelt never got the letter which history recorded Albert Einstein had sent. The Italian atomic scientist, Enrico Fermi, who had bombarded  uranium with the chargeless neutron and achieved atomic fission, was captured. Dr. Leo Szilard, who was performing atomic experiments, was killed and Einstein lay on a cot underground in a German dungeon. He was cold and fed only once a day. He wondered what in the world had happened and why had the Germans captured him.
<![if !supportEmptyParas]> <![endif]>
HOW HITLER CAPTURED
 ALBERT EINSTEIN
<![if !supportEmptyParas]> <![endif]>
     The German intelligence operation of Einstein's capture had gone off like clockwork. On July 28, only five days before Einstein would mail the

Page 53

critical letter, a group of men (German soldiers who had parachuted down a half block from Einstein's home) appeared at his door claiming to be physicists. When he discovered they were not, he was accosted, sedated and cleverly disguised. A forged passport with a fraudulent identity was placed in his pocket.   Einstein was injected with a drug which simulated drunkenness. He was unable to speak clearly. He was whisked off with eight soldiers, also possessing falsified passports. At the airport they easily cleared through passport control and boarded a flight to a neutral country where it would be easy to transport him to Berlin.
<![if !supportEmptyParas]> <![endif]>
HITLER PRODUCES
MATERIAL FOR THE BOMB
     The next year, 1940, Hitler fortified the Vemork electrical plant in Rjukan, Norway and stepped up production of heavy water to massive proportions. He ordered the production of a gaseous diffusion plant as a back up to isolate the isotope of uranium 235, which was needed for the bomb.
     The next year in 1941, he strategically withdrew from areas where he knew heavy losses were to occur. In 1942, he proclaimed he wanted peace and if the allies would only allow him to cease fire, he would withdraw his troops and return control of certain countries of Europe as good will gestures—and he did. First Greece, then Warsaw—yet, he continued to fortify Norway in 1943, as she produced more and more heavy water. In 1944, the ferry sailed and reached its aspired destination.
Page 54
<![if !vml]>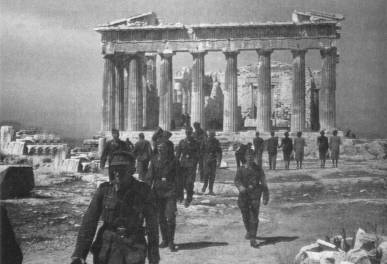 <![endif]>
<![if !supportEmptyParas]> <![endif]>
A timewarp-Nazi retreat from Greece.
<![if !supportEmptyParas]> <![endif]>
     After reading Anthony Cave Brown's 1975 book, "Bodyguard of Lies<![if !supportFootnotes]>[1]<![endif]>," he had had the explosive plastique, meant to sabotage the delivery of important war material, removed from the ferry, which would carry his critical shipment of heavy water moments before it sailed, thereby thwarting its previous historic destruction, which had been achieved by the underground, in the time before.
<![if !supportEmptyParas]> <![endif]>
HITLER ASSEMBLES THE BOMB
AND CALLS FOR A CEASE FIRE
<![if !supportEmptyParas]> <![endif]>
     In late 1944 having assembled all the uranium brought to him from the space ship into 6 bombs and having produced enough heavy water in Norway to assemble another 20, Hitler retreated from several countries provided the allies ceased fire on those areas where withdrawal would be executed.
Page 55
     In December of 1945, with all looking well to the world, Hitler ordered three planes be sent out with unknown cargo. He assured the Americans, the Russians and the British that these planes where carrying envoys of peace with new peace agreements which would help to facilitate a quick and more efficient withdrawal from key potential hot spots. The allies agreed to receive the aircraft because Hitler had kept his word to the letter thus far. They wanted peace!
<![if !supportEmptyParas]> <![endif]>
HITLER DROPS THE A-BOMB
ON THE UNITED STATES
<![if !supportEmptyParas]> <![endif]>
     As the first plane roared over Washington DC its port doors opened, its cargo, a giant cylinder-shaped object, was released. As it fell ever so gracefully, headlong towards a football stadium, the players and crowds looked up. Suddenly a blinding light over-
took all and after the loud explosion, which accom­panied the extraordinary brilliance approximating that of the sun—silence was everywhere.
     Ground zero and a mile out was deadly silent. Three to five miles out some murmuring could be heard. Farther out ........

3 more chapters remain.